Gaming Makes You Happy: 8 Reasons Why!
Gaming has quickly become one of the biggest entertainment industries in the world, and we're absolutely here for it! As lovers of all things gaming, we've put together 8 reasons why our gaming actually makes us HAPPIER humans.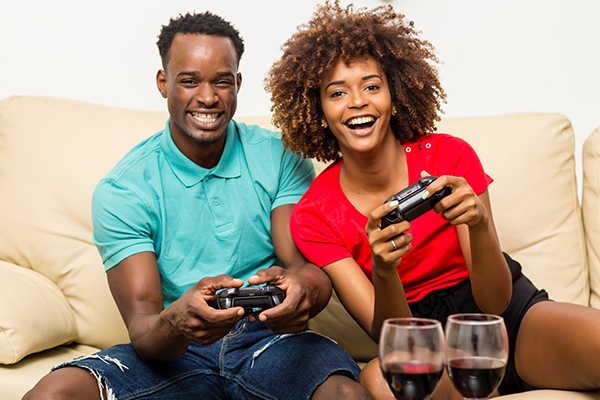 1. It's All In The Stats
Contrary to any concerns that excessive gaming leads to poorer mental health, studies have shown that people who play video games for long periods generally report feeling happier than those who don't! Research by the UK's Oxford University Internet Institute focused on 2 games: Animal Crossing New Horizons and EA's Plant's vs Zombies: Battle for Neighborville.
Well, what d'ya know? If it's beneficial for our general well-being, why wouldn't we give it a whirl?
Note: This is not an ad for any specific games, by the way. But hey, we might be ordering these ones ourselves!
2. Gamers Never Lose Their Innate Sense Of PLAY
As adults, we tend to have little time to do things that stir in us that innocent glee. You know, the freedom of play when you could enjoy the whole summer vacation without any 'real' responsibilities? *Sigh*
Good news, folks - you can still enjoy the play! Even better, it's pretty good for us, too. Gaming gives us magical opportunities to indulge in fantasy realms, escaping the hum-drum of our routines, engaging in playful behaviour, and acting the part of characters without 'real' consequences! Prepare to charge those inner batteries and re-enter the real world with a renewed and fuller sense of energy.
3. Escapism
Nostalgic feelings of freedom also contribute to gamers' ability to get lost in virtual worlds, meaning they're an amazing form of escapism- even if just in very small amounts. Over the last few years, while many of us have faced pretty tough lockdown measures, gaming has gifted us with the ability to get immersed in digital nature and explore our world and beyond in well-needed time-outs from our own 4 walls! Even more, multiplayer games have allowed us new, wider, and instant social experiences (that overcame any physical restrictions) at our very fingertips. We'll take that!
4. Improves Our Resilience
Multiple studies have shown that gaming stimulates 2 of the most important regions of the brain: the rewards pathway system, which is associated with motivation and goal orientation, and the hippocampus, which is associated with learning and memory. Think about it: spending your time trying and trying to complete a single mission on Grand Theft Auto, or kill the Bowser on Super Mario, do you easily give up?
Remarkably, this mindset practised by your gaming reflects into the real world! Gamers are statistically more likely than non-gamers to be resilient and motivated to complete goals in work environments.
Ultimately, gaming, with its in-built quest lines and reward systems, bode well to help us re-engage, reboot, and regain our sense of true self. There's a rhythmic nature to game cycles that can be soothing to many: allowing us a greater sense of control and familiarity over what is happening and how exactly we can achieve the best ending.
5. Improved Coordination And Motor Skills
Believe it or not, there are physical health benefits to video gaming! Studies have shown that people who play regular video games have an improved sense of spatial coordination and motor skills compared to those who don't!
Practice makes perfect, right? Gaming sparks cognitive boosts that can make us better drivers, improve our eyesight (especially first-person shooters!), and enhance our intellect. What's more, we're informed that gameplay can slow down the ageing process. You heard it! According to a study this year from the University of Iowa, just 2 hours a week of brain-teasing games may help prevent any age-related natural mental decline.
6. Greater Imagination And Creativity
Take Fortnite, for example - you've gotta master your critical thinking, creativity, and communication. Gaming allows us to exercise our grey matter to further improve these skills and widen our imaginative horizons.
The emphasis on problem-solving and 3D movement can also contribute to mastering some essential life skills.
A 2013 study by a research institution in Berlin proved that the 3D movements in video games help us to develop our planning ahead, spatial navigation, and motor skills.
7. Authentic Connections With Like-Minded People
On a planet that's increasingly connected online, it's ironic that many of us feel more lonely and out of touch with each other.
While gamers have long been stigmatised as 'isolated' and 'asocial', modern gaming is in fact more sociable and truly bonding than a lot of 'in-person' situations now! We don't need any data to tell us how many people walk around outside with their heads on their devices…
Proper teamwork is vital in a lot of games! Modern gaming encourages players to talk to their friends and co-players (from both real or virtual worlds) on their team via headsets to achieve any shared goals, or to warn other players of any nearby threats!
Gamers have mastered the digital world of online communities and communication, in which games have become a core and universal language. Subsequently, gaming has become a highly sociable pass time, with millions of people connecting and making lifelong friends from all over the world who share their passions.
8. It Can Be A Little Money Maker!
If you've reached a pro level in your favourite games, why not enter an eSports tournament - because you could win big! Games such as Call of Duty, League of Legends, and Dota 2 regularly offer tournament prize pools of over a million dollars.
Competitive video gamers have become the latest version of overpaid sports players. Let's put this into context… Tyler 'Ninja' Blevins is an esports superstar, and one of the biggest Twitch streamers and Youtubers since Fortnite was released in 2017. Ninja insists that he earns more than $1 million per month playing video games, and has a current net worth of $30 million.
Happy Questing!
So, the next time someone criticises the gaming lifestyle? Pfffft - you're armed with our list of healthy physical, emotional, and psychological benefits!
Whether you're already a seasoned gamer geek or new to the gaming scene, pick up your console (guilt-free) and get playing. From now on, as long as you don't over-indulge, it's time to think of your little dose of gaming like a fruit or vegetable!