Quest With Single Gamers Manchester
Make genuine connections with someone who shares your passion for gaming. Find Princess Leia to your Han Solo or Mario to your Princess Peach. Look no further to find true love with single gamers from Manchester. Join a community of geeks, nerds and gamers looking for friendships, connections and love. Whatever you are looking for, find your player two. Explore members in Manchester and find the person who lights your fire. It's time to become the protagonist in your love story.
Local Gamers & Single Geeks
Is your love life glitching? Date Player Two only takes minutes to sign up, and you will quickly be matched with gamers in your area. Tell us about you, your interests and your preferences for a partner to increase your chances of finding a match. You will have common interests and shared characteristics. Browse your matches and find the perfect player two. Search for even more members across Manchester and the UK using our easy to use the member search facility. Filter members by age, gender, location and interest. Like and chat to the members you find the most interesting. Discover which members are deep into retro gaming or who will spend hours questing through World of Warcraft with you. There are no limits to finding love on our gamer dating site. Do not be a camper and explore your options throughout Manchester.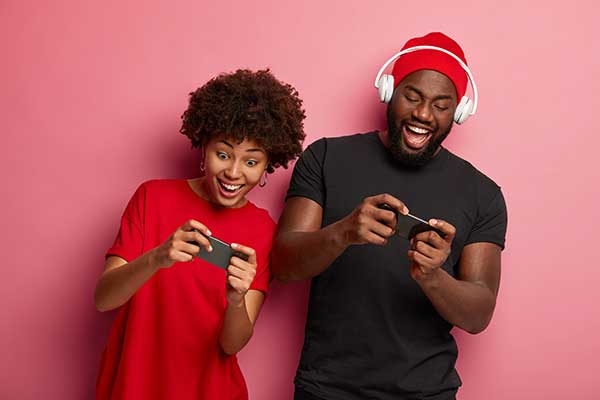 Level up your gamer dating experience when you explore the news feed. Our feed is a hub of activity where you can explore all member uploaded content. Explore member posts, blogs and uploaded photos. You will also see the latest articles, polls and gamer dating content throughout the feed. The best part of the members feed is that it is tailored to you, your preferences and profiles you have liked. Your feed will soon become your lifeline for success while dating single gamers. Like, comment and get to know other members on the platform. The feed is a casual space to interact with other members and discover who you are interested in chatting to one on one.
Is Your Love Life Lagging?
Once you have explored the platform, browsed member profiles and discovered the cutest single gamers, it is time to upgrade. Upgrade to VIP Membership and unlock access to unchartered territories. Gain priority spacing on the news feed and member searches. Be the main character in someone else's love story by posting new, hot content on the feed. Unlock our "Likes Me" feature and see who has liked your posts and profile. You will also be able to see which profiles you have liked, at the click of a button. Put these new features to use and chat with the single gamers and geeks who have expressed interest in you. You will also gain exclusive access to send and receive unlimited private messages. Increase your chances of meeting your player two with the VIP features. It's time to go from single player to co-op mode.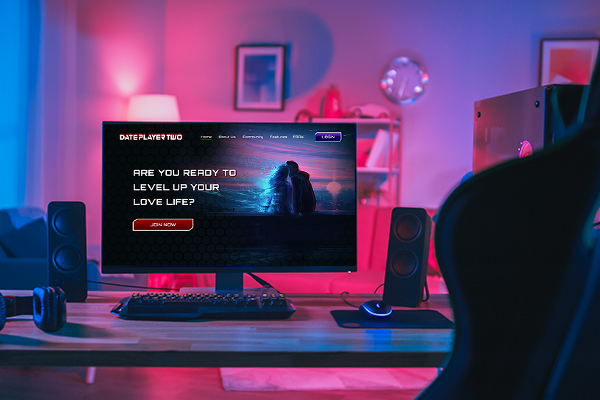 The Articles
If you have previously been unlucky in love, do not rage quit just yet. Learn something new about gamer dating or brush up on your skills with our articles. Discover the do's and don'ts of setting up your geek dating profile, ice breaker questions or the best date ideas for gamer couples. Our writers are sharing their experiences, helpful tips and dating advice with you. You will soon be crafting a new strategy to win over our members. Learn more about our members by reading their blogs. Discover what makes their character tick, what experiences they have had and if you can see a future with them. The opportunities are limitless on Date Player Two.
Top Cities
Recent profiles
James15Bolton

Adventurous PC Gamer, seeking likeminded other




James15Bolton

(32) Straight Male


Adventurous
Attractive
Caring
Casual Dating
Combat
Exciting
Funny
Laid back
Long Term Relationships
Loyal
Marriage
MMO
PC
Real-Time Strategy
Retro
Romance
RPG
Shooter
Simulations
Stealth Shooter
Strategy

Own my own business 2 dogs (husky cross akita's) Explorer Own house No kids Love exploring new places whether that be on foot or in my 4x4, trying new things and all forms of ga..




UK

,

England: Greater Manchester

,

Bolton

Glynhusb816

Geeky, film loving Video Editor/graphic artist




Glynhusb816

(24) Bisexual Male


Action / Adventure
Books
Casual Dating
Cooking
Flirting
Friendship
Funny
Gaming
Laid back
Long Term Relationships
Loyal
Marriage
Mobile
Movies
Music
Nintendo
Online Chat
PC
Romance
RPG
Shooter
Simulations
Survival horror
Vaccinated
Xbox

Big Marvel Fan, love A variety of games such as Zelda, Elder Scrolls, Fallout, Overwatch, Mario, Animal Crossing and Assassins Creed, also love watching loads of films, cooking and..




UK

,

England: Greater Manchester

,

Manchester

bjjfaaronalfca

"Jedi And Sith Wield The Ashla And The Bogan, The Light And The Dark. I'm The One In The Middle, The Bendu."




bjjfaaronalfca

(27) Straight Male


Adventurous
Attractive
Caring
Casual Dating
Combat
Exciting
Flirting
Friendship
Funny
Laid back
Long Term Relationships
Loyal
Marriage
Nintendo
Nintendo DS
Online Chat
PC
Playstation Vita
PS4
Puzzle
Retro
Romance
RPG
Shooter
Simulations
Strategy
Survival horror
VR
Xbox

So i recently got out of a relationship where i was basically not allowed to game and i don't really have anyone to game with so a little about me im a chef working for the NHS an..




UK

,

England: Greater Manchester

,

Wigan

samstringer3016

McDinalds or KFC Hit me with the best game you've played and the worst!




samstringer3016

(28) Straight Male


Adventurous
Casual Dating
Combat
Exciting
Flirting
Friendship
Funny
Long Term Relationships
Loyal
Marriage
MMO
Mobile
Nintendo
Online Chat
PC
PS4
Puzzle
Real-Time Strategy
Retro
Romance
RPG
Shooter
Strategy
Survival horror
VR
Xbox

Spend far too much time on youtube. Usually find me sat at my PC trying to beat Elden Ring and when that fails you can find me crying in the shower afterwards I'm quite a chille..




UK

,

England: Greater Manchester

,

Westhoughton

Jacobli779

I'm probably the best healer EU?




Jacobli779

(25) Straight Male


Caring
Casual Dating
Combat
Flirting
Friendship
Funny
Laid back
Long Term Relationships
Loyal
Marriage
MMO
Online Chat
PC
Romance
RPG
Shooter
Strategy
Survival horror

Long time gamer who's looming for someone to team up with. I am a caring and passionate guy who loves animals and works in the veterinary industry. Massive MMO nerd and have been..




UK

,

England: Greater Manchester

,

Shevington

Joecra679

Geek looking for something or nothing who knows




Joecra679

(29) Straight Male


Caring
Casual Dating
Combat
Flirting
Friendship
Funny
Laid back
Long Term Relationships
Loyal
Marriage
MMO
Mobile
Nintendo
Online Chat
PC
PS4
Real-Time Strategy
Retro
Romance
RPG
Shooter
Strategy
Survival horror
VR
Xbox

D&D, Metal Music, Video Games and Cooking Dog Daddy Poly Demi Taking the dad bod to the next level Not a big drinker Smoker who is slowly cutting down Tats and Tits i have em bo..




UK

,

England: Greater Manchester

,

Moston

Zak279

Hey my name is Zak I am looking for a girl I can relax and laugh the night away with oh and just to tell u if I am quite when we meet or talk I am a very shy person at first




Zak279

(19) Straight Male


Caring
Combat
Funny
Laid back
Loyal
MMO
Nintendo
PC
PS4
Real-Time Strategy
RPG
Shooter
Simulations
Strategy
VR
Xbox

Well there's nothing really interesting about me i love to fix thing and make things out of nothing in my free time




UK

,

England: Greater Manchester

,

Wigan

Callumedwa548

I don't really know what to say in this




Callumedwa548

(21) Straight Male


Caring
Friendship
Funny
Long Term Relationships
Loyal
MMO
Nintendo
PC
PS4
RPG
Shooter
Survival horror
Xbox

I like to play destiny and smite. I mainly play on pc




UK

,

England: Greater Manchester

,

Partington

howard995

Bit of a geek looking for similar




howard995

(36) Straight Male


Caring
Casual Dating
Flirting
Friendship
Funny
Laid back
Long Term Relationships
Loyal
MMO
Online Chat
PC
Pets
PS4
Real-Time Strategy
RPG
RTS
Shooter
Simulations
Strategy

Can be shy but open up to people I like. Honest and open. Much prefer nights in to night out




UK

,

England: Greater Manchester

,

Wigan

vrvipersn521

Fancy some VR anyone.... Come say hi..




vrvipersn521

(39) Straight Male


Adventurous
Attractive
Caring
Exciting
Flirting
Friendship
Funny
Laid back
Long Term Relationships
Loyal
Marriage
MMO
Mobile
Puzzle
Retro
Romance
RPG
Shooter
Strategy
VR

Hello..never know what to put here .. So here's a few full stops.. Plenty more where that came from..




UK

,

England: Greater Manchester

,

Dukinfield

alexmon750

It doesnt supposed to be this difficult.




alexmon750

(33) Straight Male


Adventurous
Attractive
Caring
Combat
Exciting
Funny
Laid back
Long Term Relationships
Loyal
Marriage
MMO
PC
Puzzle
Real-Time Strategy
Retro
Romance
RPG
Shooter
Simulations
Stealth Shooter
Strategy

Hello there! Im 34 from Hungary, im looking for my player two in the UK.




UK

,

England: Greater Manchester

,

Wigan

abbiec174

"Ha Ha Ha Ha Ha Ha Ha Ha Ha!" - Tidus




abbiec174

(27) Straight Female


Adventurous
Casual Dating
Friendship
Get the Jab!
Laid back
Loyal
MMO
MMO RPG
Movies
Music
Nintendo
Online Chat
PC
PS4
Puzzle
RPG
Sports
Strategy
Survival horror
Travelling
Vaccinated
Xbox

Favourite games are Final Fantasy, Dark souls, Overwatch, Dark cloud, Quantic dream series. I'll be back to update my profile and upload a photo once I've checked out the site! :)




UK

,

England: Greater Manchester

,

Wigan

dalethe226

Play most things with company, br Mainly: br LoL, Minecraft, Gw2 br br Loads of other things with company




dalethe226

(28) Straight Male


Caring
Casual Dating
Combat
Funny
Laid back
Long Term Relationships
MMO
PC
Puzzle
Real-Time Strategy
Retro
Romance
RPG
Shooter
Simulations
Stealth Shooter
Strategy

Work in Social Care. I'll play pretty much anything with company, its about the people you play with, not the game




UK

,

England: Greater Manchester

,

Stockport

aaroncharn387

Looking for someone to raise a puppy with




aaroncharn387

(34) Straight Male


Casual Dating
Funny
Long Term Relationships
Loyal
Marriage
MMO
PC
PS4
Romance
RPG
Shooter
Simulations
Strategy

Learning Spanish Visit the gym 2 - 3 times per week




UK

,

England: Greater Manchester

,

Hollinwood

leebos342

Single and ready to mingle. Massive geek




leebos342

(31) Gay Male


Adventurous
Attractive
Caring
Casual Dating
Combat
Exciting
Flirting
Friendship
Funny
Laid back
Long Term Relationships
MMO
Nintendo
Online Chat
PS4
Romance
Strategy

Single and ready to mingle. Just a massive geek and ready to meet new people




UK

,

England: Greater Manchester

,

Salford

callumedwa844

I'm looking for a gaming accomplice who understands romance and fast-paced clicking.




callumedwa844

(21) Straight Male


Caring
Combat
Friendship
Funny
Long Term Relationships
Loyal
MMO
PC
PS4
RPG
Shooter

I'm shy and quiet. But once I get to know someone that changes. I like anime and manga. I enjoy doing art. I love to play destiny 2. It's my favourite game.




UK

,

England: Greater Manchester

,

Manchester

phil854

I'm kinda shy easygoing person. I don't take life too seriously




phil854

(39) Straight Male


Attractive
Caring
Casual Dating
Combat
Cooking
Flirting
FPS
Friendship
Funny
Gaming
Laid back
Long Term Relationships
Loyal
Marriage
MMO
Mobile
Movies
Nintendo
Online Chat
PC
Pets
Puzzle
Racing
Real-Time Strategy
Retro
Romance
RPG
Shooter
Simulations
Stealth Shooter
Strategy
Survival horror

I'm kinda shy, but I'm a happy and easygoing person. I don't take life too seriously unless I really have to, looking for someone who likes to chat , into rock and metal, motorspor..




UK

,

England: Greater Manchester

,

Manchester

peter26Ballymena

I like to have a laugh and enjoy life, looking to meet someone and get to know each other. Be strong enough to be gentle.




peter26Ballymena

(21) Straight Male


Action / Adventure
Adventurous
Attractive
Caring
Combat
Exciting
Funny
Laid back
Long Term Relationships
Loyal
Nintendo
PC
Retro
Romance
RPG
Shooter
Strategy
Vaccinated
Xbox

6ft. Enjoy going to the gym, swimming, drinking, art and animals. Don't mind a night in playing games and watching Netflix or a night out getting sloshed. Lets go on a date and get..




UK

,

England: Greater Manchester

,

Manchester

ern719

A gamer that also love hiking and going outside.




ern719

(26) Straight Male


Adventurous
Casual Dating
Flirting
Friendship
Long Term Relationships
Loyal
Marriage
MMO
Online Chat
PC
PS4
Puzzle
Real-Time Strategy
Romance
RPG
Shooter
Simulations
Stealth Shooter
Strategy

Plays kinda anything. Addicted to Teamfight Tactics current. A bit introvert a first but will take a lot afterwards.




UK

,

England: Greater Manchester

,

Manchester

lark209

This is not the greatest headline in the world no this is just a tribute, couldn't remember the greatest headline in the world no this is a tribute




lark209

(26) Straight Male


Casual Dating
Combat
Flirting
Friendship
Long Term Relationships
Loyal
MMO
Mobile
Nintendo
Nintendo DS
Online Chat
PS4
Puzzle
Retro
Romance
RPG
Shooter
Simulations
Stealth Shooter
Strategy
Xbox

It's over 9000, he's called link not Zelda, legendary spammers suck and super smash Bros enquire if you get them, sick of same dating scenes




UK

,

England: Greater Manchester

,

Timperley